Goat Rocks Wilderness Hike
'Whitepass' to 'Shoe lake'

The map on the left show's the route of the 'Pacific Crest Trail'. The trail will be marked with a yellow line. If you look at the Map it will show that the trail head starts at the 'White Pass' ski lodge. I will be heading south to 'Walupt Lake' which will take about 3 days.


The picture on the left is about a half mile from where I started. This is a small stream with the water running down over the rocks and moss. It's just what I would like in my back yard. Nice hiking so far, not to steep and really pretty. I want to take pictures of every thing I see...maybe 72 shoots won't be enough??? I know be selective.


These two pictures to the left are shots of 'Ginette Lake'. There are some real good camping spots here, and the Lake is beautiful. It will take about 1 and half hours to reach this spot from 'Whitepass trail head'. This would be a great place to hike into for the week-end, camp-out and then hike back out. On the map there's suppose to be another lake close by here. It would be kind of neat to go check it out, but I don't have the time.
NOTE...When you plan a hiking trip, be sure to allow extra time. There will be alot of times that you may want to just hang-out at a spot. Some places warrant some exploring and its fun just to stop for a day or two and check things out. Try not to put yourself on a schedule.
This is a map of the entire hike, the first map you opened showed about half of the hike. I will be showing you the second map when we get to the half way point. The entire map, which you will be opening now is kind of large so I thought it would be better to show it in two halfs. This map like I had mentioned is of the entire route. And the trail is marked in yellow.


I,ve taken some shots of flowers along the side of the trail, and I could take pictures all day long right here. The colors and the variety of flowers are unbeleivable, and I have no idea what they are, or what there called.


This group of pic's where taken about 4 miles from Whitepass. I took a picture of some snow damaged trees. Some of the trees are real short, because of the snow. Lots of pretty flowers, and I have included some shots of the trail. It is really pretty, and so much to look at, and the views are fantastic.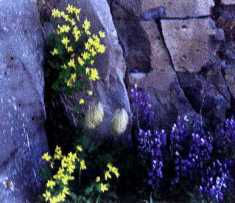 Yes, I had to take some more pictures of flowers!!
I'm about 6 miles from where I began 'Whitepass', and it should be about 2 miles to 'Shoe Lake', which will be my camping spot for tonight. The hiking is kind of steep but it is really worth it. Let see its 3:30 PM and I started the hike at 11:00 AM, so thats 4 and half hours and approximately 6 miles hiked. Thats the way I like to hike. One of the things I do is stop and just look around, glance back down the trail, take a minute or two and just check things out. I found out that when I do that I get alot more out of the hike. Most of the time its when I have stopped to look around is when I will see an animal. Yes there's alot to see behind you, and that really holds true hiking up hill, because theres always those views as you get higher.


Be sure to click on the "enlarge photo" bar..after reading this information. Here are some pictures of 'Shoe Lake', the two pictures on top were taken just before sunset. I found a really nice place to camp right next to the lake, and I had the whole lake to myself. If you like you can click Here and a map will pop up, which has some information, that you may be interested in.
To continue from 'Shoe Lake' to 'Elk Pass' click